I arrived at the ranch at about 11, way earlier than I anticipated. LeAnn didn't arrive till about 1pm so I had a good couple of hours to sit outside and soak up all the sounds and sights. It was very peaceful, even with all the crows. I even saw a hummingbird! It buzzed around right next to me.
I saw all the things we see on the DVDs which look quite different up close and personal. The big top arena is much closer to everything than I thought it was. I could see and hear Pat in there giving someone some advice on cow cutting I think. There were cows in there too.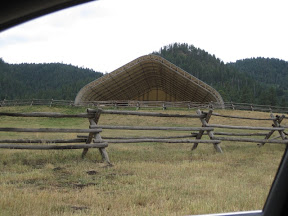 Also the pens where the staff and mastery students keep their horses, kind of looks down onto the big arena, which is massive, and slopes!
Also saw the hill, that alot of the 45ft circles I have watched in awe over the years in the background of a Pat or Linda video, were filmed, ...and the honeycomb!
I gave the office the rest of my paperwork, not sure where the rest of my fax went as all they had was my insurance.
When LeAnn arrived we went to see Heart who I had actually spotted up on the hill pens, from the two or three photos I'd seen of her. She searched my pockets politely for treats. LeAnn said she likes treats and rest. So she's a female paint version of Garbo - just what I wanted!!
She's going to let me use her cradle bridle too which will be awesome. I got to catch her with the savvy string, after LeAnn let her loose get water, and took her back to her pen, just a little wave of the savvy end moved her over which was pretty cool, considering she was heading for what little grass there was.
Then I headed to Pagosa town (downtown I'm told this part is), and got a subway for lunch.
Then checked into the apartment. It has ceiling fans so it's lovely and cool. Really nice place. A little balcony for morning coffee and everything.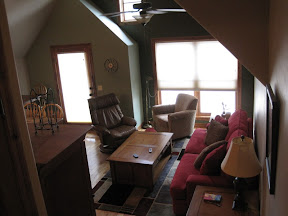 Then once I'd un-packed - yes these are my tops for the two weeks, can you see the colour trend??
I went up to the grocery store to get water and soy milk, and some fruit. Used the self check out which was easy as, and off back towards the apartment and I spotted a coffee shop, a decent looking one, called Highlands Coffee, and they had a vanilla soy latte with my name on it. !
Now I'm back at the apartment, biding time till bed, as I'm pretty tired now. Driving has been good so far, the first few cars I saw heading towards me on the left gave me a quick adrenalin surge but now I'm getting used to it, only been on the wrong side of the road on a couple of gravel roads with no other cars around for about 2 seconds, so all good!
Looking forward to Day One of my Flex Track tomorrow.
This is a cute little place across from where I am staying.
Bye for now...more tomorrow.