If Hearts back had not been sore I would have ridden her today, that was the initial plan for staying longer. But turns out it's just been a quiet day, had a bit of a sleep in till 730am. Then wandered up the road since I had not checked any of the local stores. Not really alot there unless you want cowboy boots lol.
I bought another bag because I only want to have my handbag on the way home, I'll have to pay extra no doubt. But that's life.
Then I drove uptown to get a coffee, and came back and wrote some notes up, they are all up to date now and sorted in subject order on my Note App.
We went to the Elk Horn cafe for lunch and waited 30 minutes for food which is a bit unusual, when I questioned it she said they were training a new chef and they don't think she can cook - great! I ordered the eggs with beans no bacon something called a espaquerdra or something....
These were the questions...
How would you like your eggs?
Bread or tortilla?
Flour tortilla or corn?
Green chilli sauce or red?
hot or mild?
blimey lol.
Then Jane and I went to the Out West Saddlery shop. It's in this amazing barn on a private property up a private road off a road to nowhere!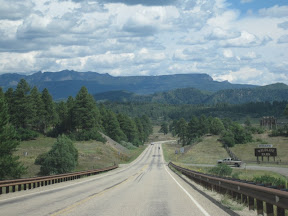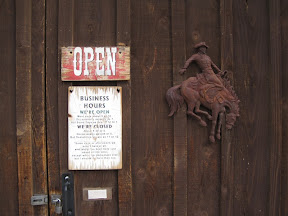 This was the pretty drive there, only about 7 miles from where we are staying.
The door was pretty unique, a bit like the whole shop actually. Lost of western stuff and it looked like they made their own chaps and things.
Since then we've just been catching up on notes, Facebook, emails etc.
We have to check out at 11am, I'll be awake early anyway so I think I'll head there early and see if I can get an earlier plane, since I have tight connections.